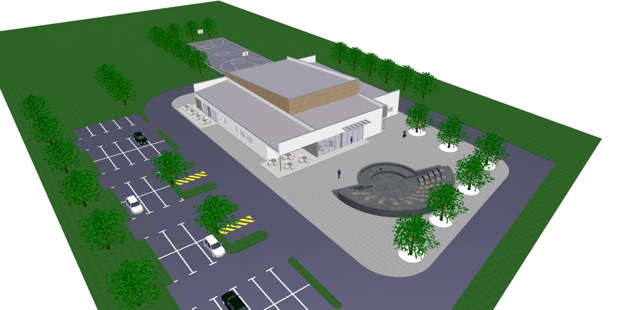 We are delighted to be able to present to you our construction project of the new church building, called "Project Jabez".
After a prolonged time of expectation and prayer, God has enabled us to obtain the necessary building permits, to secure the building contractor and has provided the initial funds needed to commence construction.
To commemorate this event, on February 21, we are conducting a ceremonial church service at the Baptist Church in Mačkovec. After the formal service the congregation will be heading to the construction site for the ground breaking celebration which will officially mark the beginning of the new church building construction.
Since 2010, when Jabez project idea became reality, God's faithfulness was evident: We were able to accomplish the following:
-the land for the new construction was obtained and paid in full
-the necessary procedure of reassigning the agriculture land has been completed
-the building permits have been obtained
-the architect has been paid in full
-all required fees have been paid in full
The building project will progress in two phases:
Phase I, construction phase – includes construction of the building to the roof. The financial need for this phase is 200,000 EUR.
Phase II, finishing phase – includes the remaining work (doors, windows, installations, flooring, etc.) We are planning to complete this phase with the help of volunteer teams that are willing to donate their time and talents for God's work.
The planned completion of the construction phase is December 31, 2016. For this phase we have secured 100,000 EUR. We are trusting God for the remaining 100,000 EUR to be collected till the end of the year.
DONATIONS
If you'd like to join us and contribute to our project, your donation will be appreciated. You can make the payment directly to the account provided bellow, or, if your state tax law provides for tax exemption on donations, you can make the payment to your local church and ask that the church forwards the payment accordingly.
Baptistička Crkva Mačkovec

SWIFT: PBZGHR2X
IBAN: HR95 23400091116005829
Purpose of payment: "Jabez project"
Financial statement on February 15, 2016:
| | | | |
| --- | --- | --- | --- |
| | Need | Raised | Remaining |
| Phase I: | 200,000 € | 100,000 € | 100,000 € |
Video and Pictures:
We are rejoycing for the progress of  construction work! The rainy period in March has slowed down the works but now the changes are evident.
The construction work on the project moves on. The foundation and the concrete floor are in place. The walls are rising. Those are not walls to divide, they are walls that  will provide safe space to fellowship with God, they are walls that will unite.
31.10.2016.
1.1.2017.
1.4.2017.
2018.